Fiat 500 bags minicar category tops safety rating of the IIHS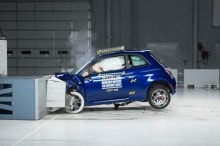 The 2012 edition of the Fiat 500 passed thru several hurdles this week and wins the nod of the Insurance Institute for Highway Safety after besting all cars in the minicar category crash test.
The safety award goes to the Fiat 500s that rolled out of the car plants after July this year as the structure of the driver seat was modified to enhance occupant protection during rear-end and frontal collisions.
The announcement is also an added assurance to consumers who might be thinking if their money is worth it and if the car goes beyond the fuel savings it promises. The 4-cylinder, 1.4L engine of the Fiat 500 linked with its 6-speed automatic gearbox has a fuel mileage of 27 miles per gallon while cruising around the city traffic while it gets a 34 mpg if you are on the highway. The current price for unleaded gasoline is currently averaging at around $3.47 as of this week.
The IIHS has only given their thumbs up for stop afety for the Ford Fiesta and Fiat 500 in the minicar category.
The new Fiat 500 will also be one among other cars which will be subjected to a crash test by the National Highway Traffic Safety Administration or NHTSA. The agency has been following a safety rating program using a 5-star system to gauge a vehicles safety.
The safety accomplishment of the Fiat 500 came with a good headliner on leading newspapers in the United States saying that J. Lo's booty is safe with the Fiat 500 following the lines of their high profile marketing push tapping the services of singer-actress Jennifer Lopez.