Fiat previews small crossover 500X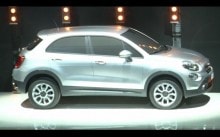 The 500X by Fiat is set to go on sale in Europe in about two years and in North America shortly after. Olivier Francois, the brand's global topman, showcased a full-size model of the crossover during a media lunch of the 500L in Turin last week.
The 500X will take the place of the Fiat Sedici. Just like its sibling, it will have the styling of a hatchback and SUV. The 500X is the fifth offering of the brand under the 500 line. It joins the 500 Abarth, 500L minivan, 500C convertible, and the 500 3-door hatchback.
The 500X is the longest member of the lineup measuring 4,200 mm in length. The crossover will also make use of the wider architecture similar to the one used by the 500L minivan.
The car manufacturer plans to start the production of the 500X by December 2013. This will happen as they pour in a billion euros to expand their facilities in Mirafiori so it can handle the production of about 280,000 units every year.
Most likely, the Fiat 500X will be sharing the production line with its cousing B-SUV by Jeep. The sister model from Jeep is still under a code name but it is set to get a go by 2014. The B-SUV is set to be positioned as a smaller member of the lineup just below the Jeep Compass and the Jeep Patriot. This vehicle will be sold in Europe, United States, and other international markets.
If all plans go well, the 500X will be the first model of the 500 lineup that will be manufactured in Italy. The 30door hatchback is assembled in Poland to serve the European market, while the units for China and America are all done by Chrysler in their factory in Mexico.
The 500X will have an all-wheel drive and a front-wheel drive variant. The B-SUV by jeep is expected to have a trail-rated variant that will be a must for the U.S. release. The Italian carmaker will end its ties with Japanese car manufacturer Suzuki which is responsible for the produciton of Sedici and the counterpart Suzuki SX4 in Hungary.
The 500L will hit European showrooms by September this year. North American Consumers will have to wait until the second half of 2013. The 500L will be manufactured in Fiat's Kragujevac facility in Serbia.